I was searching Google the other night for a Hobbit Name Generator, and found one. I entered my real life name, and this is what I got: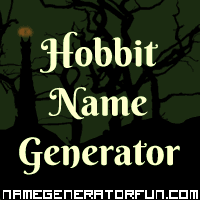 "My hobbit name is: Rudigar Headstrong
Your surname, Headstrong, is from:
The maiden name of Malva Brandybuck.
You share your first name with this hobbit:
Rudigar Bolger: One of Bilbo's uncles, he married Belba Baggins, the younger sister of Bilbo's father Bungo.
Get your own hobbit name from the hobbit name generator!"
So, I guess my name is now 'Rudigar Headstrong'. XD ~CNGoodhue~